About Glass Cremation Jewelry
 The passing of a family member or friend is one of the hardest experiences we can face. The healing process can take quite a while and an important part of that process is being able to feel our loved one's continued presence in our lives.
Glass cremation jewelry is an elegant and artistic ways to ground that feeling with a physical object. Wearing something that contains the ashes of your loved one brings them quite literally close to your heart and reminds you of their presence. Every time you put your pendant on, see it in the mirror, or receive a compliment on it you'll be reminded of your loved one's continuing presence with you.
Ashes and glass fuse in a dance of old and new, emerging as a beautiful piece of glass art.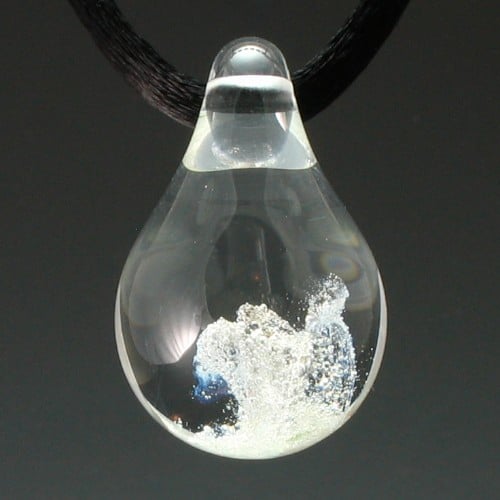 There are many factory produced cremation jewelry pieces on the market, but that option has always left me feeling a little cold. The objects I value the most are beautiful, handcrafted items created with intention by artisans who love what they do. When I want something special, I look for something unique and hand crafted…not something produced by a machine.
All the memorials on this site are hand blown by Mark Hamilton, a glass blower with over 25 years experience. Some online sellers of glass memorials work with a number of less-experienced glass artists so you never really know which artist will make your memorial. But when you commission me to create your memorial, you can be assured you are working directly with an experienced artist. If you have any questions during the process you will have access to me personally instead of customer service reps from a larger company who may not have the same care and respect I have for your loved one or pet.
The hand blown glass cremation pendants on this site are strikingly different from what you might have seen before. This is because the ashes of your loved one are transformed into the focal design of the piece…they actually become part of the art. I carefully encase the cremains in molten glass and use them to form different designs inside the pendant. The clear glass shows the ashes off beautifully and allows the light to play off the hundreds of tiny CO2 gas bubbles the ashes create as they are absorbed into the glass. The size and patterns of the bubbles can't be controlled but happen organically as the glass and ashes mix and fuse together in different ways. For this reason, no two pieces  will ever be alike.
How Are My Loved One's Cremains Handled?
When you commission me to make your cremation jewelry, I promise that I'll handle the ashes of your loved one with the same care and respect I'd have for my own. Along with the ashes, I'll request a photo that you feel really captures their essential nature. I also welcome anything you want to tell me about your loved one that would help me know them better. Before I create your memorial, I'll take a moment to look at the photo you send and recall what you've told me about them. From this space, I'll create a special memorial for you and anyone else who wishes to remember them and keep them close to their hearts.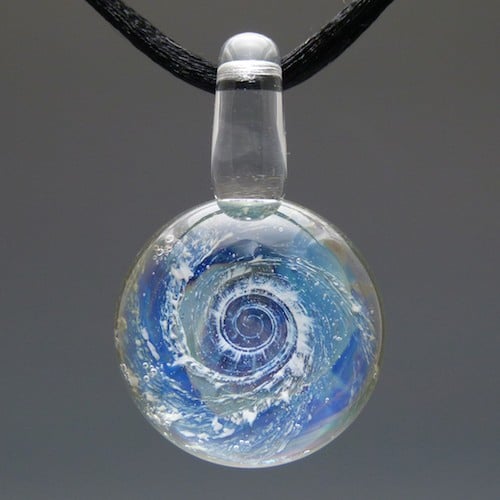 How To Commission Your Glass Cremation Jewelry
Many of my customers have recently lost their loved one so I try to make the ordering process as fast and easy as possible. To start the process, just select the memorials you'd like and place your order. When I receive your order, I'll send you a kit with a small glass jar you can fill with ashes. Just use the included scoop to measure out a 1/4 teaspoon of cremains for each piece you ordered and drop the jar in the included postage paid mailer. About 2-4 weeks after I receive your package I'll mail your memorials and send you a tracking number so you can be watching for them. There are no extra costs and shipping is free within the USA.
If you have any questions before you place your order please feel free to contact me. I look forward to working with you to create some beautiful cremation jewelry for you and your family.