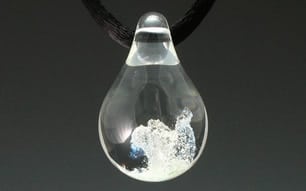 The passing of a family member or friend is one of the hardest experiences we can face. The healing process can take quite a while and an important part of that process is being able to feel our loved one's continued presence in our lives.
Glass cremation jewelry is one of the most elegant and artistic ways to ground that feeling with a physical object. Wearing a pendant that contains the ashes of your loved one brings them quite literally close to your heart and reminds you of their presence. Every time you put your pendant on, see it in the mirror, or receive a compliment on it you'll be reminded of your loved one's continuing presence with you.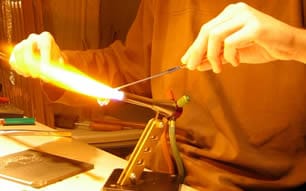 Hi, and thanks for taking the time to get to know me. I'm Mark Hamilton… professional lampwork glass artist. For the last 25+ years I've specialized in creating hand blown glass jewelry out of strong borosilicate glass. After experiencing the loss of 2 close friends and my cat Leo, I decided to put my skills to use in the service of others who'd lost people and pets close to them.
Creating this special cremation jewelry is the most rewarding glass work I've done.  I'm honored to be able to make beautiful creations out of hot glass that help people hold the memory of their loved ones close to their hearts.
"What a spectacular piece of incredible cremation jewelry you made with my Mom's cremains! Any of your pictures do not even begin to reflect what beauty this piece has about it. After receiving it in the mail, I had to just sit once unwrapping it and just admire it-the feelings that ran through me were almost surreal in nature. The best I can even put into words-is that it gives me peace…that simple! Your care and time-plus your professionalism-is very evident from how awe inspiring a piece I have. It is always close to my heart & gives me closure. I hope that anyone who has the desire to have this done, does so with you!! You did not disappoint!!"
— Susan Sheldon,  Mayville NY
Memorialize your loved one in hand blown glass
Mark, I just received the necklace today and it is absolutely beautiful!!! It exceeds any of my expectations!! This is the perfect way for me to remember my grandparents and to keep them close to me at all times.
Thank you so much for your wonderful artistry and the respect you showed the ashes of my grandparents. I have shared your website with my entire family and friends!
I was out of town when my pendant arrived but my husband took a photo and posted it for me so I was very excited to get home and see it. It is absolutely perfect in every way. I wore it to work the day after I got home. Everyone who sees it loves it.
It is obvious it was made by a person with a lot of emotions and good karma; it comes through in the piece. I will always treasure it and I thank you for it's beauty and craftsmanship. And thank you for your kind words about Daniel. This pendant will always keep him close to my heart.
I needed to tell you that I got my piece today and I am so very happy. You captured the eternal and special love my father and I shared. I was completely at a loss as to how to honor a man that had meant more than words can describe and then I found this site and your work.
When I received the piece it was incredible. The glass warmed in my hand and I couldn't stop looking at it. I truly felt close to my Papa and can't thank you enough for the peace that that brings me.